A network of over 800 alumni worldwide – proud graduates of the Stratford Chefs School.
SCS Alumni are successful graduates of the cookery program. Many have gone on to operate their own businesses, have taken up positions at prestigious restaurants, and continue to branch out into other areas of the food and hospitality industry as sommeliers, hotel managers, and nutritionists. What was their SCS experience like? Where are they now?
Stratford Chefs School Alumni Association
The Stratford Chefs School Alumni Association (SCSAA) was created as a social platform from which SCS Alumni may discuss current and evolving issues in the hospitality and culinary world, as well as connect with one another. The SCSAA is open to all SCS Alumni, and makes networking among all SCS graduates easier, from 1985 to the present. The SCSAA is a resource for sharing industry-related information, furthering culinary knowledge, and promoting community and entrepreneurial support.
---
Alumni Referrals
Are you working with a promising cook looking to further their culinary education?
Refer them to Stratford Chefs School and they may be eligible for a $500 scholarship*!
We want your best.
One of the greatest assets of the Stratford Chefs School has always been its community of successful graduates. SCS Alumni have consistently dedicated both themselves and their resources to the School's ongoing success.
A large part of SCS's recruitment campaign is based on Alumni referrals. SCS will offer $500 CAD* to an alumni-referred student who completes (at minimum) level one of our two-year culinary program. The $500 will be administered either as a tuition credit for the referred student, or as a donation made by alumni, in their name, towards the Stratford Chefs School's "Curriculum Updates" program. However this money is allocated, it is generated by and remains within the SCS community.
Some will consider student-referral as an investment in their restaurant and its future. Others will see it as the beginning of a student's journey in apprenticeship.
We are asking for your best. Let's help your most promising staff realize their potential – your referral will help in their decision to train at the SCS.
Referral Requirements: Minimum 6 months working relationship with SCS Alumni and a Reference Letter.
---
SCS Alumni Graduate Archives
Explore graduating classes, 1983 and onward.
Class of 1985 – 2012 | Class of 2013 – Present
---
Alumni play a special role at SCS.
Are you SCS Alum?
Class of 2021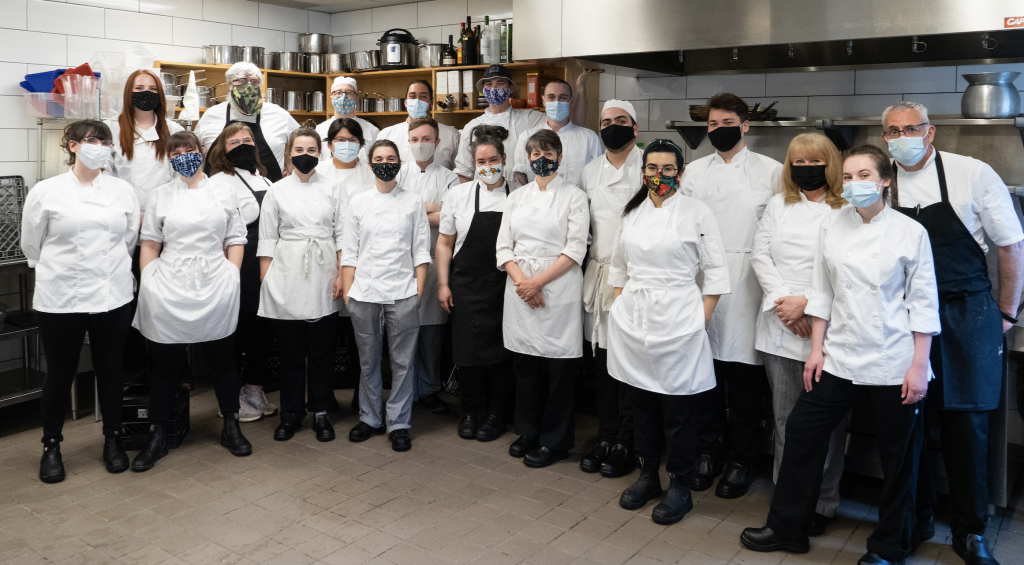 FRONT ROW (l-r): Emma Lidkea, Jazmyn Munn, Chef Erin Negus, Maggie McHugh, Cheyenne Budimlic, Jared Van Camp, Chef Randi Rudner, Karen Huff, Olivia Hinchberger, Keturah Wilkinson.
BACK ROW (l-r): Courtney Damberger, Chef Mike Booth, Jonathan Dowdell, Nikko Morito-Barber, Seth Riekenbrauck, Talon Douglas- Cates, Michael Guenette, Evan Wood, Elizabeth Kerr, Chef Neil Baxter.
Class of 2020
FRONT ROW (l-r): Nathan Bellaire, Arthur Hsieh, Julia Hancock-Song, Christian Schiller, Julian Palmer, Chef Cody Wideman.
SECOND ROW (l-r): Chef Erin Negus, Aaron Dettlinger, Erin Reece, Ashley Stock, Fiona Johnston, Skyla Whalen-Tucker, Chef Randi Rudner, Ms. Frances Latham.
THIRD ROW (l-r): Chef Mike Booth, Chef Eli Silverthorne, Matthew Burpee-Jones, Campbell Smith, Alex Abrantes, Clement Filewod, Mohammed Barakat, Iain MacCallum, Jaewon Choi, Sam Brohman, Cory Leblanc, Emma Preston, Faye Cain-Merrill, Chef Neil Baxter.
BACK ROW (l-r): Dyson Smirle, Eric Lavryssen, Wolfgang Young, Julian Rey.
ABSENT: Bailee Letman
Class of 2019
FRONT ROW (l-r): Dexter Kiriopoulos, Ms. Bell, Thomas Noftall, Shane Jeffery, Martin Hernandez, Zachary Phillips, Mitchell Roy, Alexander Pivnick, Chef Negus.
MIDDLE ROW (l-r): Ms. Latham, Barbara Langford, Jules Faulkner, Jessica Johnston, Chef Gerber, Chef Rudner, Kassandra Smart, Kate McDougall, Nathan Graff-Rowe, Ryan Morrison, David Monkhouse
BACK ROW (l-r): Trent Gadbois, Katrina McCully, Travis Matt, Mark Dickey, Cody Wideman, Chris Bassel, Tanner Wituik, Chef Booth, Sean Hannam, Jacob Confurius, Kyle Hesketh
Class of 2018
FRONT ROW (l-r): Taira Desrochers, Isabel Gantenbein, Katie Wong, Jessica Iveson, Katy Chan, Margaux Whillans-Browne
MIDDLE ROW (l-r): Taylor Van Damme, Ashley Burnie, Anna Carroll, Chef Rudner, Anika Pardy
BACK ROW (l-r): Chef Booth, Chef Santandrea, Cory Miller, Dan Wagner, Thomas Maracle, Erik Cholod, Eric Beddoe, Adam Murphy, Manuel Giraldo, James Toynton, Brian Goodman, Chef Briggs, Chef Middleton, Chef Negus
Class of 2017
FRONT ROW (l-r): Megan Hitchon, Amy Columbos, Loghan Chambers, Dean Pazianos, Andrea Monzon, Chef Steele
MIDDLE ROW (l-r): Cortney Zettler, Chef Briggs, Chelsea Stemmler, Stephanie Brown, Akeela Rabley, Regina Simoni, Jala Vicario-Robinson, Anna Marano, Chef Rudner, Stepfanie Spencer
BACK ROW (l-r): Chef Booth, Jared Hartley, Andrew Whyte, Hunter Bruce, Mitch Graper, Tom Giannakopoulos, Nick Schroder, Meaghan Evely, Chef Baxter, Jaylen Wickert, Max Thuss
ABSENT: Aaron Miller