Countdown to Graduation 2022!
VALEDICTORIAN PROFILE
Eric Lavryssen | Class of 2020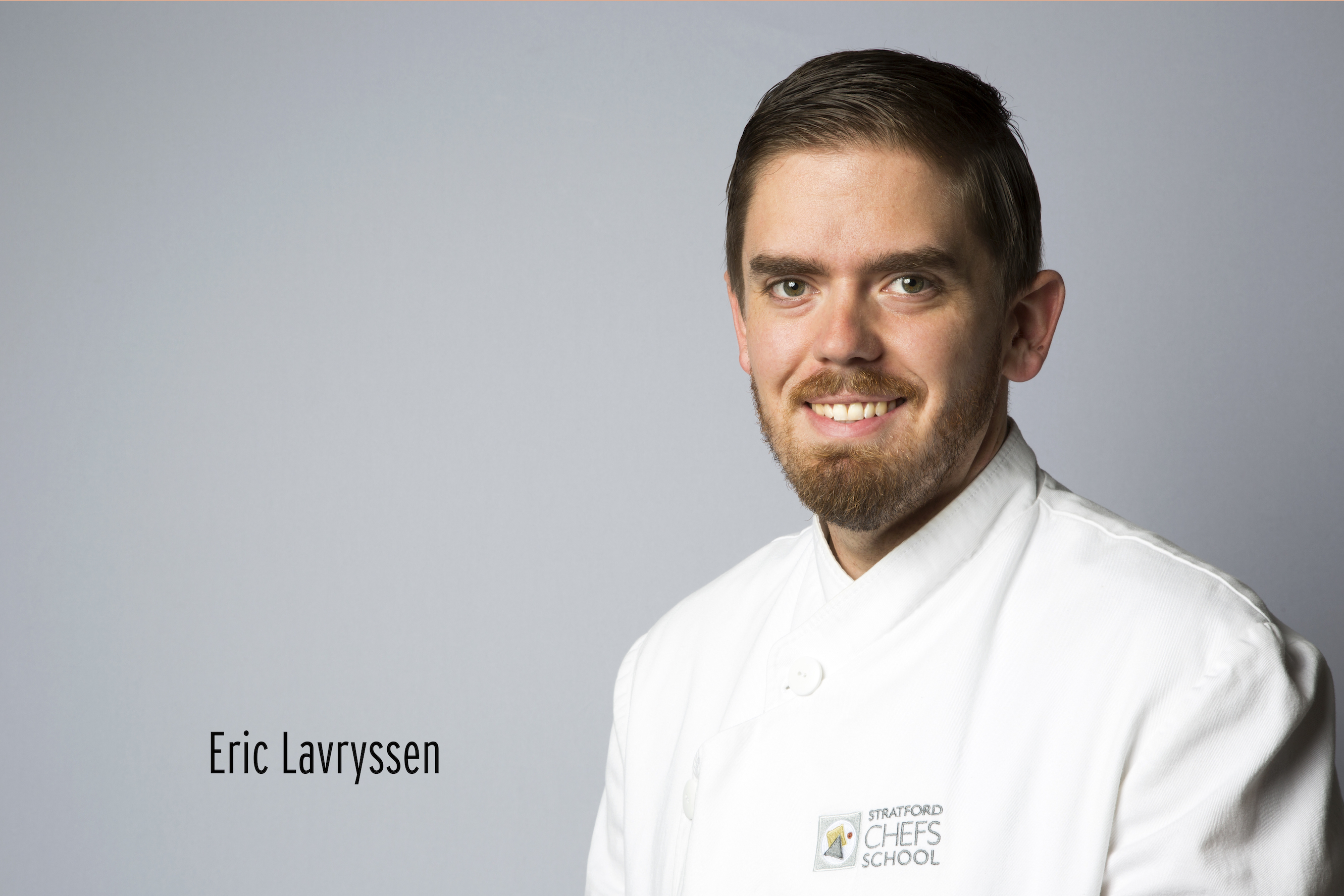 We sat down recently with Eric Lavryssen (Class of 2020) to find out what he's up to, where he's headed, and his reflections about his time at Stratford Chefs School.
Eric has settled in Kingston, Ontario while his partner completes her teaching degree. Not one to sit idle, Eric keeps busy cooking at Tango Nuevo and Mayla Concept, sister restaurants in the heart of beautiful and historic downtown Kingston
In Eric's words, he is "cooking, learning, and embracing life!"
Prior to attending Stratford Chefs School, Eric spent seven years working in kitchens. Working for Keg Restaurants Ltd. in Toronto, Eric learned quite a lot, but recognized that he wanted to learn proper culinary techniques and become more creative in his kitchen. Eric's goal was to become a professional chef and take his skills far and wide. With that keen eye on international employment, Eric realized that a culinary diploma would afford him a portable trade with opportunity to travel, explore the world, and practice his craft wherever he settled.
While in Toronto, Eric and his partner were frequent guests at Richmond Station, the bustling neighbourhood restaurant in Toronto's downtown core. Upon enrolling in a Richmond Station butchery course, Eric met co-owner Carl Heinrich (Class of 2005), who recommended that Eric enrol in Stratford Chefs School's 32-Week Professional Program.
The rest, they say, is history. Eric commenced classes in October 2018 and soon found himself immersed. According to his instructors, Eric was an ideal student; he was eager, well prepared, and motivated both technically and academically towards pursuing success.
Upon looking back on his SCS experience, Eric is quick to note his gratitude and esteem for Chef Instructor Scott Roberts, who hired Eric to be sous chef at private catering events in Toronto. Eric encountered more training opportunities to learn classical cooking techniques through exposure to the School's Canadian Guest Chefs, who would also become mentors and role models for Eric in the foreseeable future. Of course, nothing worth earning comes without challenges! Eric found the daily change of working with different chefs, interpreting different kitchen leadership styles, and comprehending unique workflow ideals a bit challenging; but, he agrees, the entire experience was imperative for his professional development as a chef.
Eric remained focused and graduated with Distinction in March 2020.
During the pandemic, Eric and his partner worked with their friend, Jordi Jacko, and realized their passion project, Braiding Pathways, the catalyst for community vision. As Managing Director and Lead Culinary Facilitator, Eric is passionate about building community through food, bringing a sense of community togetherness, and using food as a starting point to overcome systemic injustice.
When Eric isn't facilitating community projects at Braiding Pathways or cooking at Tango Nuevo and Mayla Concept, he enjoys camping and exploring the great outdoors. In the future, Eric hopes to travel, learn farming techniques, and create a sustainable lifestyle for himself, his loved ones, and his communities.
Unfortunately, Eric won't be able to join us for Graduation on June 5th. Although we will miss catching up with him in person, we know that, wherever Eric settles, he will leave his imprint and change lives in the community, much like he did while attending Stratford Chefs School.
Congratulations Eric, we can't wait to hear where you settle next and what you accomplish!
---
'Open Kitchen' Classes Continue

Attention Foodies! Our Open Kitchen cooking class program, led by Chef Instructor Eli Silverthorne, is up and running through September, with something for everyone!
'Get Cooking!⁠' classes are intensive workshops focused on themed recipes, such as our classes on Vegetarian cooking, and a variety of International cuisines like Spain, Greece, China, India, Israel, and others.⁠
'How Do I Use That?'⁠ classes are informative workshops that demonstrate new-to-you kitchen tools or gadgets such as Immersion Circulators for sous vide, Smokers and Knife Sharpening.⁠
'Trade Secrets'⁠ focuses on exploring a cooking technique, dish or product, such as quick meals, the ultimate Burger, fast fermented breads,⁠ pasta-making, and more.
Classes are hands-on and limited in size. Check out the schedule and book your spots early!
---
---