SUMMER 2023: Kick-start Your Culinary Education
Recently, we had the opportunity to catch up with Bailee Letman (Class of 2020). Bailee was a student in the Summer 2019 program and continued to complete Level 2 in March 2020, graduating with Honours.
 
After completing high school in 2015 with Special High Skills Major in Hospitality, Bailee had plans to attend college and pursue a diploma in Culinary Management; however, the timing didn't feel right for Bailee and so she decided to defer her educational plans and continue working in the industry.
 
By 2018, Bailee was at a crossroads with her education and career plans. Completely unsure as to where she wanted to be or what she wanted to be doing, Bailee heard about Stratford Chefs School's 32-Week Professional Program.
"I feel like SCS chose me. After learning more about Stratford Chefs School, touring the facilities, and getting to know the city of Stratford, it felt right to choose this path to continue my educational journey."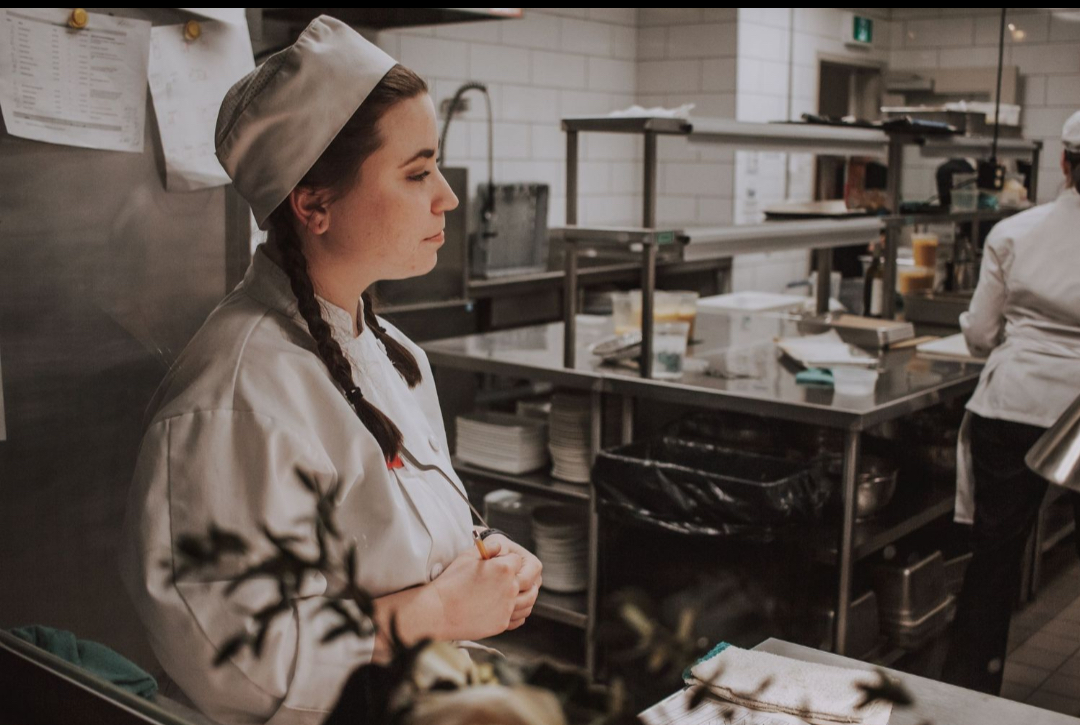 Although Bailee considered enrolling in the traditional October intake Level 1 program, she was drawn to the Summer Program, endorsed by an acquaintance who happened to be one of the students from the Summer 2018 program. Bailee was eager to begin the program and the timeline seemed ideal. With the realization that she could complete the program within one year instead of two years, Bailee completed her application and eagerly awaited acceptance into the 16-Week Summer 2019 Certificate Program. Bailee was thrilled that her summer classroom and kitchen schedules would allow her to continue working while studying.
 
As Bailee reflects on the Summer 2019 Program, she is balanced in evaluating the pros and cons, compared to the traditional offering. With an intake of only 4 students (Summer 2023 has an intake of 10 students), Bailee recognizes that she received more individual time with her instructors and many opportunities to showcase her abilities. Being part of such a small class meant that everyone knew each other very well (both a pro and a con) and relied on each other. It was a challenging course that demanded 100% commitment. As the weeks quickly went by, Bailee became nervous about Level 2 starting immediately after the Summer Program. Thankfully, Bailee was able to gain clarity and understanding from Program Manager, Randi Rudner. As well, working alongside her instructors for a Stratford Chefs School event, Bailee was excited to imagine what Level 2 would look like in the kitchen!
 
Bailee worked through her nerves and quickly bonded with her Level 2 classmates, graduating with Honours in March 2020. She is currently creating her own business brand and looks forward to sharing her passion.
"My goal is to be as happy and healthy as possible, to continue to cook for passion, pleasure, and purpose. And hopefully, to achieve a life-long goal of becoming self-sustainable."
---
Last Chance to Make Your 2022 Donation
Thanks to your generosity, led by our wonderful anonymous matching Donor, we are thrilled to have surpassed $20,000 raised to date in our End of Year Fundraising Campaign, which kicked off on Giving Tuesday.
If you haven't made your 2022 tax deductible donation to the School yet, you have until Saturday, December 31! 
With your support, the Stratford Chefs School will maintain an unparalleled standard in the field of contemporary gastronomy and hospitality. Your donation can be made to our Campus Upgrades Fund, the Curriculum Updates Fund, the Student Support Fund, or our Writer in Residence Fund. Thank you!
---
Student Chef Dinners

Resume January 10, 2023
DINE IN and PICK UP available
As part of their hands-on training, SCS Students prepare and serve innovative multi-course Dinner menus, overseen by their Chef Instructors, for you to enjoy Tuesday through Saturday. There is a unique menu each night.
Our International Inspirations Dinner Series – four course menus inspired by internationally renowned chefs and interpreted by our student chefs – continues in January 2023.
Check out all the menus and reserve your favourites now!
---
Summer and Fall 2023
Professional Program Applications
Are Now Being Accepted
Are you looking for a career in the culinary industry?
Whether you plan to become a Red Seal chef, food photographer, food blogger and writer, business owner, recipe developer, recipe tester, or any one of the dozens of culinary careers that our graduates pursue, Stratford Chefs School is the place to start working towards your goal.
What sets our program apart?
Take a moment to hear from Randi Rudner, Stratford Chefs School Program Manager as she describes the unique benefits of our 32-Week Professional Program.
Interested in hearing and seeing more?
Book a Campus Tour and explore our Professional Kitchens, Dining Room, and Learning Centre.
---
"When I decided to be a chef, I made it a goal to pick the best culinary school in the country to build a solid foundation. I chose the Stratford Chefs School, mostly for its reputation for producing talent, for its intense training program, and for the intimate student – teacher ratio. I certainly wouldn't be where I am in my career without the connections I made and the skills that I learned there."
Carl Heinrich | Executive Chef and Co-owner, Richmond Station, Toronto | Stratford Chefs School Class of 2005 | Top Chef Canada 2012
"The Stratford Chefs School provides the training to create world-class chefs who are comfortable working in any kitchen environment. Its immersive, approachable, interactive curriculum provided me with the tools and confidence that I needed early on in my career to make the transition from the school setting to the workforce. Perhaps most important to me are the lasting friendships that were made, the ongoing support from the SCS community, and exciting collaborations with other alumni."
Alondra Galvez | Owner/Chef, El Cactus Taco Shop | Stratford Chefs School Class of 2003
"At the Chefs School, I was given the opportunity to challenge myself, and expand the limits of my culinary skill and knowledge. SCS gave me the ability to trust in my own skill and allowed me to expand my knowledge. Now I confidently pass that skill and knowledge to my students."
Mel Athulathmudali | Teacher, Strata Montessori | Owner, Chef Mel Catering | Stratford Chefs School Class of 2016
---
---
Photography by Terry Manzo (SCS Class of 1985)