Countdown to Graduation 2022!
VALEDICTORIAN PROFILE
Olivia Hinchberger-Turcotte | Class of 2021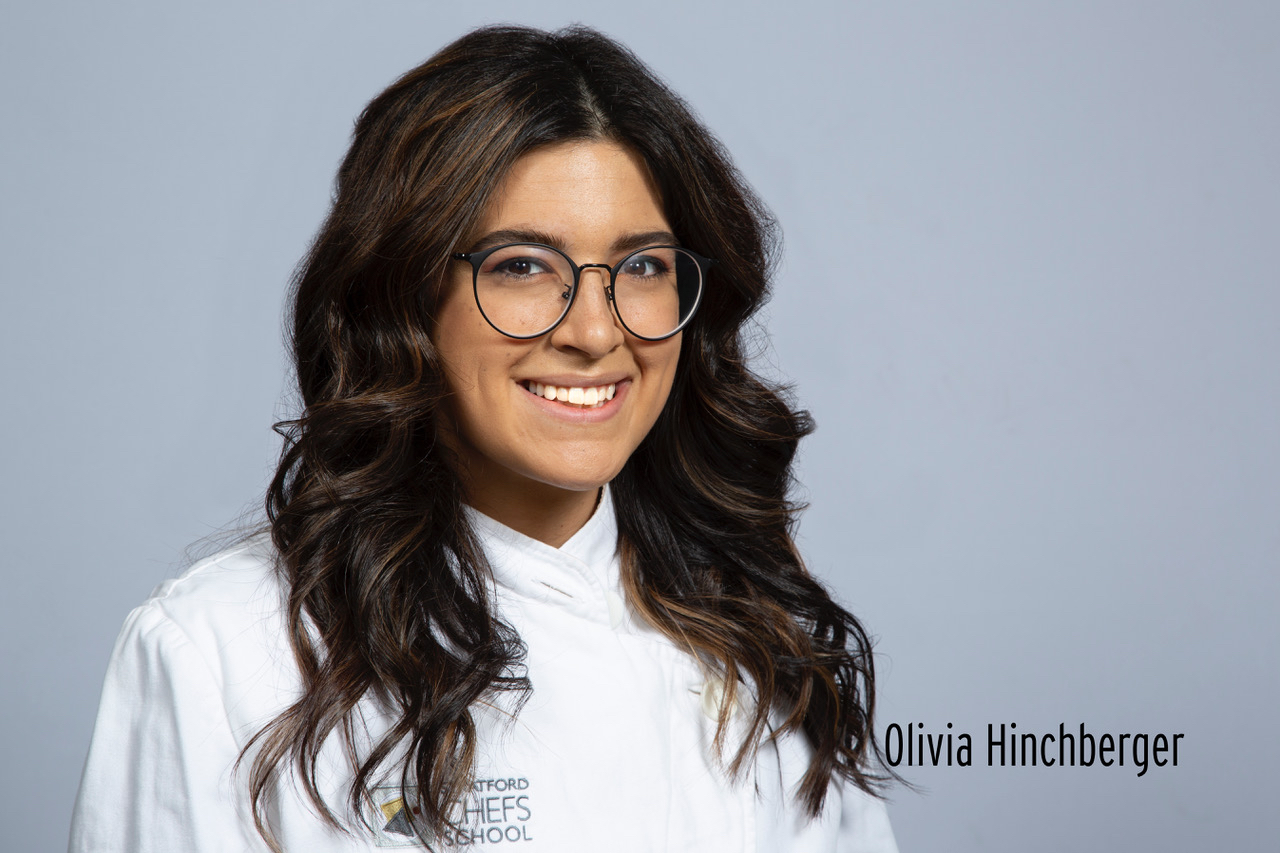 With a life-long passion for Pastry, Olivia found her happy place in the kitchen, starting as a dishwasher at age 14. After high school, Olivia attended college and afterwards embarked on a career in administration; but Olivia always knew that it was WHEN and not IF she would attend culinary school and so she commenced a 6-month investigation into the Stratford Chefs School's 32-Week Professional Program. She evaluated the apprenticeship program, the school's reputation, graduates, and the opportunities a Stratford Chefs School culinary education might afford her.
Olivia began Level 1 classes at Stratford Chefs School in October 2019 and was immediately surprised by how much she enjoyed the academic component of the program. Excelling both academically in the classroom and practically in the kitchen, Olivia soon realized that she was in the right place, that she cared more about her success than she had ever done so before. Olivia was pursuing excellence!
Olivia completed Level 1 in March 2020 and was awarded the Level 1 Cookery Award. She returned to Kincardine to spend the summer with her husband, Sam, and fur-baby, Remy, worked at The Tusk (Kincardine) and put into practice all that she had learned the previous months.
When Olivia and her classmates returned to SCS in October 2020, COVID restrictions ensured that instruction would be modified to accommodate public health and government mandates. Showing true grit and leadership, Olivia navigated lockdowns, postponed start dates, and fine dining take-out service with her refined charm and grace, alongside that familiar Level 1 pursuit of excellence.
Reflecting on her SCS tenure, Olivia notes that she discovered much about herself and grew as a person. She discovered that she is, in fact, academically motivated, quite saucy, and super emotional (a BIG feeler!). Excited for, but not completely sure how her culinary future will unfold, Olivia has continued to hone her exceptional pastry skills and is freelancing with HELLO FRESH as a recipe tester since graduating with distinction in April 2021.
As Olivia makes final plans to deliver her Valedictorian address at our 2022 commencement ceremony, she has reflected on the advice she would give her Level 1 self:
Show Up Early, If You're Able
Work Hard
Be Kind to Yourself
Don't Expect Perfection
Forgive Yourself
Sleep, You'll Need It!

We can't wait to welcome Olivia back on June 5th and look forward to hearing her Valedictorian message to the Class of 2021. Congratulations, Olivia!
---
'Open Kitchen' Classes Continue

Attention Foodies! Our Open Kitchen cooking class program, led by Chef Instructor Eli Silverthorne, is up and running through September, with something for everyone!
'Get Cooking!⁠' classes are intensive workshops focused on themed recipes, such as our classes on Vegetarian cooking, and a variety of International cuisines like Spain, Greece, China, India, Israel, and others.⁠
'How Do I Use That?'⁠ classes are informative workshops that demonstrate new-to-you kitchen tools or gadgets such as Immersion Circulators for sous vide, Smokers and Knife Sharpening.⁠
'Trade Secrets'⁠ focuses on exploring a cooking technique, dish or product, such as quick meals, the ultimate Burger, fast fermented breads,⁠ pasta-making, and more.
Classes are hands-on and limited in size. Check out the schedule and book your spots early!
---
---