2022 Stratford Kiwanis Garlic Festival:
They crushed it!
The 14th Annual Stratford Kiwanis Garlic Festival was held this past weekend and was a resounding success! After a two-year hiatus, visitors from near and far were thrilled to be able to enjoy shopping, live music, seminars, and cooking demonstrations.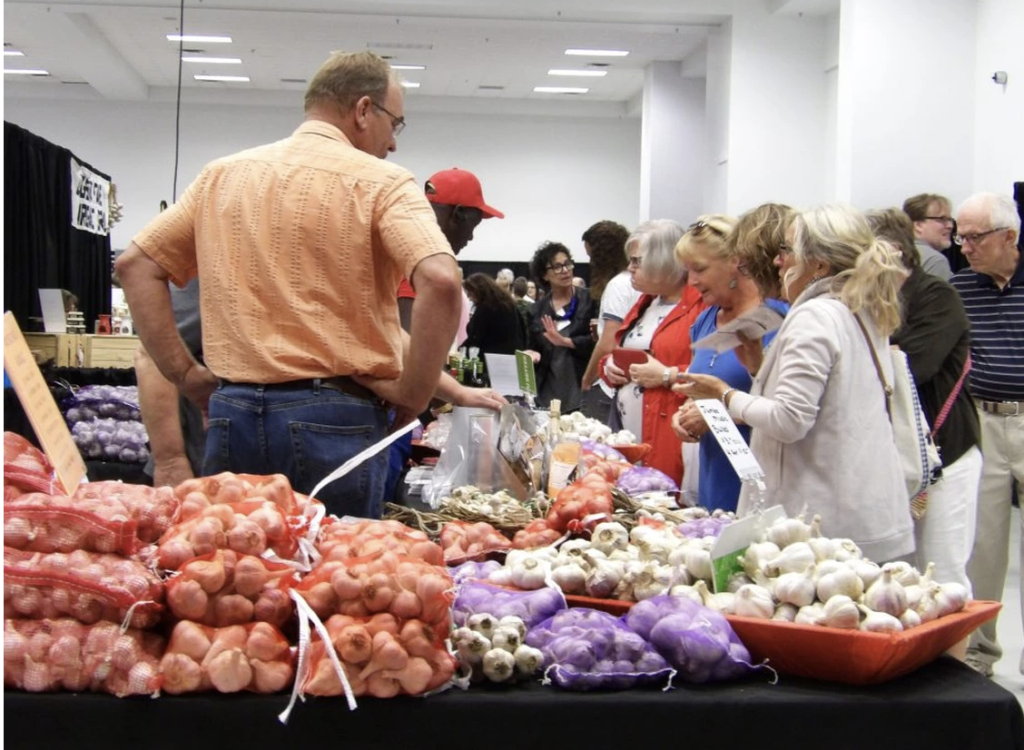 Stratford Chefs School's Chef Eli Silverthorne wowed the crowd with his demonstration recipe, Chili Garlic Crunch. As one happy visitor noted, Chef Eli didn't mince his words and gave the crowd the confidence to take the recipe home and make it for themselves.
In case you missed seeing Chef Eli at the Stratford Kiwanis Garlic Festival, we've provided the recipe below. You can also learn more from Chef Eli at our public Open Kitchen classes.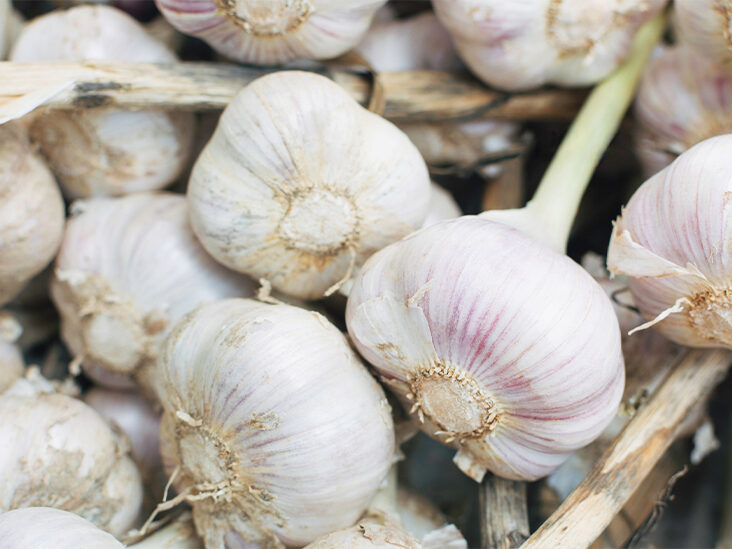 RECIPE:

CHILI GARLIC CRUNCH
Tools required:
Cutting board, knife, mandolin, frying pot, thermometer, scale and/or measuring cups/spoons.
Ingredients:
2 1/2 cups (500g) peanut oil
2 cups (200g) thinly sliced shallots (about 1mm thick; see notes)
3/4 cup (65g) thinly sliced garlic (about 1mm thick; see notes)
27g (1 cup) dried árbol chiles, stems removed
20g (3/4 cup) dried chiles japones, stems removed
25g (3/4 cup) dried Kashmiri red chiles, stems removed
1/2 cup (50g) roasted, salted peanuts, chopped
2-inch piece (30g) fresh ginger, sliced into thin matchsticks
3 pieces whole star anise
2 red or black cardamom pods, split in half
3 tablespoons (28g) freshly ground Sichuan peppercorn
3 tablespoons (12g) porcini or shiitake mushroom powder
2 tablespoons (20g) sugar
5 teaspoons (30g) kosher salt
2 teaspoons (6g) freshly ground cumin
1 teaspoon (4g) MSG (optional)
3/4 teaspoon (2g) freshly ground black pepper
NOTES: https://www.seriouseats.com/homemade-spicy-chili-crisp
METHODOLOGY
STEP #1 – preparing the chili mixture
Put on disposable latex gloves.
Place a wire rack inside a quarter- or half-sheet tray.
– Using your hands and kitchen shears, cut open chilis and place them on rack. Shake rack to sift off most of the seeds (don't worry about removing all the seeds). [top left image below]
– Transfer chilis to a bowl and discard seeds.
Using a spice grinder and working in batches, process chilis until they are ground to a size just larger than standard chili flakes. [top right image below]
Transfer processed chills to a heatproof bowl or pot large enough to accommodate bubbling oil (at least 4 quarts in size).
– Combine now processed chili flakes with crushed peanuts, matchstick ginger, star anise, cardamom, ground Sichuan peppercorn, mushroom powder, sugar, salt, ground cumin, MSG (if using), and ground black pepper. Set aside (anise and cardamom to be withdrawn after) [3&4]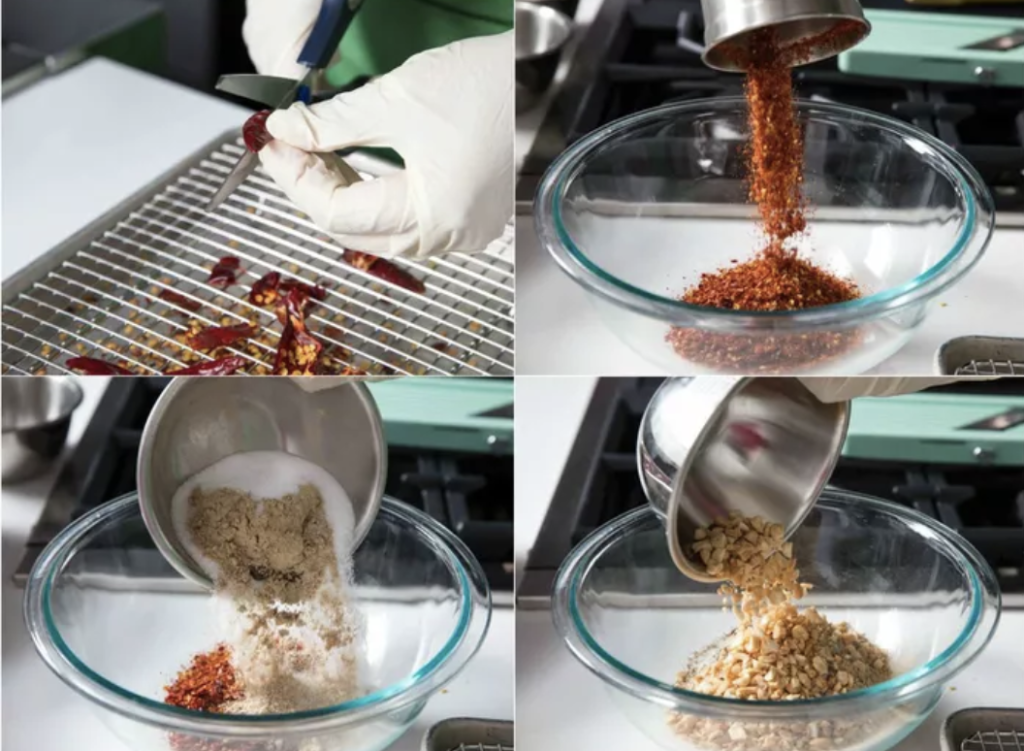 STEP #2 – CAREFULLY Cooking the shallots
Set a fine-mesh strainer over an empty 2-quart heatproof bowl.
In a 4-quart saucepan, combine oil and shallots.
Cook over high heat while constantly stirring (never allowing oil above 275F)
Once shallots become light golden brown, strain – reserve solids – reuse oil to fry garlic.
STEP #3 – Cooking the sliced Garlic
Pour oil back into pot– allow to cool – ensure below 275F – then add rasped garlic
– Cook over medium-low heat, constantly stirring, until light golden brown, then strain.
Return oil to pot once more.
Set aside fried shallots and garlic
STEP #4 – Heating the strained/infused garlic-shallot oil & pouring over chili mixture
Heat strained oil to 375°F (190°C).
Pour hot oil over chilis, spices, and other seasonings/nuts etc.
– Stir well to distribute hot oil throughout.
Set aside to fully cool, about 30 minutes or until bowl or pot is cool to the touch.
STEP #5 – Final adjustments
Once chili-and-oil mixture has fully cooled, remove large star anise and cardamom pods.
Mix in fried and reserved shallots and garlic.
Pour finished chili crisp into jars and store in the fridge for about 3 months. It can be served immediately, but for best flavour, eat it the next day.
Stir well before serving.
---

Attention Foodies! Our Open Kitchen cooking class program, led by Chef Instructor Eli Silverthorne, is running through early October, and has something for everyone!
'Get Cooking!⁠' classes are intensive workshops focused on themed recipes, such as our classes on Vegetarian cooking, and a variety of International cuisines like Spain, Greece, China, India, Israel, and others.⁠
'How Do I Use That?'⁠ classes are informative workshops that demonstrate new-to-you kitchen tools or gadgets such as Knife Sharpening, Immersion Circulators for sous vide, and Smokers.⁠
'Trade Secrets'⁠ focuses on exploring a cooking technique, dish or product, such as quick meals, the ultimate burger, fast fermented breads,⁠ pasta-making, and more.
Classes are hands-on and limited in size. Check out the schedule and book your spots early!
---
---

Photography by Terry Manzo (SCS Class of 1985)