If you ask Ruth Klahsen, owner and lead cheesemaker at Monforte Dairy, how she got into making cheese, she'll tell you, in that self-deprecating way she has:
"I'm just an old broad who had a mid-life crisis!"
The real story is that Ruth Klahsen is living proof of how an individual can have a transformative effect on local food systems. A graduate of the inaugural class of '85 at Stratford Chefs School and a professional chef for 25 years, she embarked on an adventure that would see her become one of Canada's most celebrated cheesemakers. Through innovative use of Community Shared Agriculture (CSA) fundraising, Ruth established Monforte Dairy as an innovative and award-winningly delicious model of micro-production, sustainable farming and just food.
After apprenticing at a local sheep milk dairy, Ruth and a partner opened Monforte Dairy in 2004 and started making sheep-milk cheeses in a rented facility in Millbank, Ontario, just north of Stratford, Ontario. The partnership dissolved early on, but Ruth continued making cheese and Monforte soon became known as southwestern Ontario's premiere artisanal cheese company. Ruth, clad in her vintage apron, sold her signature Toscano and other cheeses at numerous markets in the GTA, quickly gaining fans and followers among foodies, chefs and people who like cheese and remembered when almost every small town in Ontario had a dairy.
Known for its range of extraordinary cheeses, Monforte has become supplier of choice to five-star restaurants, leading wineries and progressive food retailers throughout Ontario. In the fall of 2009, Ruth was invited to the State dinner for Prince Charles and Camilla at Rideau Hall where her cheese was featured on the menu.
In January 2009 Ruth, struck out on her own to realize her dream of creating Monforte a permanent home. Monforte Renaissance 2010, a revolutionary micro-financing campaign through Community Shared Agriculture (CSA), was conceived to raise the capital to build Monforte's new dairy.
Why did you become a cheesemaker?
"I was a chef for 25 years and needed to transition to a gentler pace. Turns out, making cheese is hard work and delivers more pressure than I could have ever imagined. It's worth it – I love making cheese and contributing to the sustainable farming movement. The 20 farms I deal with share my philosophy. Together, we try to make a world our great-grandchildren can live in."
What makes your cheese artisanal?
"We use a variety of milks (cow, sheep and goat) to produce everything from ricotta and cheddars, to the exotic, moldy, French styles. To be considered 'artisanal,' the cheese must be handmade, using milk from under 20 farms. We only allow seasonal milk – meaning we don't produce year-round. From October to January we stop milking and allow our ruminants to "dry" up as part of their natural lifecycle. Our partner farms don't allow GMOs, pesticides, or herbicides and the dairy cows are all pastured."
"At Monforte, we're convinced the small things do indeed make a difference, that agriculture is best practiced on a human scale, and that our cheeses, each in its own way, reflect something a little deeper than the technology behind mass manufactured food – a little of the poetry and passion of life itself."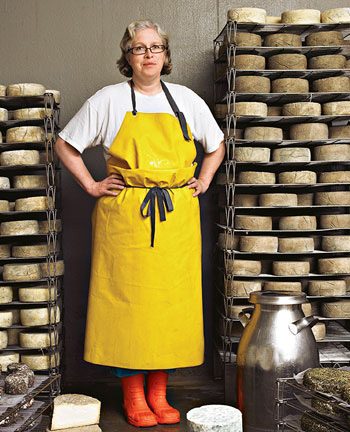 Photo by Nigel Dickson
As a food producer and an essential service, Monforte Dairy is committed to staying available in the community and honouring social distancing by providing a one-way distribution system.
More info on the website:
Sources:
https://thedepanneur.ca/event/master-class-the-art-of-cheese-making-by-ruth-klahsen/
https://www.ontario.ca/foodland/page/meet-ruth-klahsen
https://cheeseloverca.wordpress.com/2011/05/08/ruth-klahsen-rebel-cheesemaker-with-a-cause/